We understand design differently
19 November 2019
Ukrainian architectural and interior design studio YODEZEEN that develops European approach in design and architecture will be featuring at Art Basel Miami & CASACOR Miami 2019 for the first time.

At CASACOR Miami 2019 YODEZEEN will present the YDZN BAR concept, which implies the creation of a completely new functional and flexible space, revealing the very idea of the company's design principles: the most muted color solutions, natural finishing materials, functional and at the same time elegant design, sometimes even daring solutions involving a subtle understanding of the latest European trends in design and architecture.
The main goal of YODEZEEN participation at CASACOR Miami 2019 is to provide alternative design services for the American market – in the choice of materials, in the application of any design solutions, in color and light solutions, conceptual. Studio wants to offer the American market a bold approach in designing, without stylistic restrictions and without restrictions on implementation.

CASACOR Miami, the most complete architecture, interior and landscaping design exhibition in North America, returns for its third year during Miami Art Week at Miami's $1.05 billion landmark, Brickell City Centre. In partnership with Swire Properties, presented by COSENTINO and with the Global Sponsorship of DECA, the interior design exhibition will take place from December 2 – 21, 2019 and feature an international mix of 20 established and emerging interior designers, all inspired by sustainability and the urban infrastructure of Miami.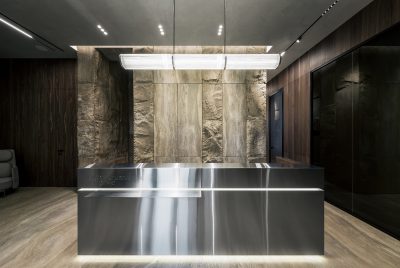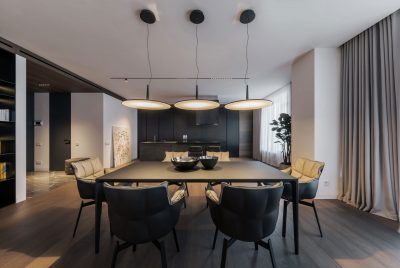 About the concept

The design of the YDZN BAR is based on the connection of the different activities piecing together contrasting spheres of our client's lives: cooking, chilling, communicating and even working. Dark colors with touches of natural materials, such as stone and wood connect with lightboxes and a vertical garden that turns the YDZN BAR into an authentic exclusive place. A big spectacular TV screen in front of the room sets entertainment as an additional inherent activity in social life. Elegant countertop from the natural stone provides pleasant tactile feelings; neoteric custom-made furniture that forms the main part of the room put the attention to the main idea – functionality of the solutions that is a base of the human-centered design.
YDZN BAR presents solutions and products of leading world-known brands: Cosentino, Snaidero, Maxicon, Iberia Tiles, Vitrea, Dresswall, Movi, The Lighting Studio, Samsung, Blackdove, Silk Floral, Deca, Twill&Texture.

Stand construction was provided by CH Construction Group.

For more information, or to appoint a meeting at CASACOR Miami please contact Tania Kolchanova via t.kolchanova@yodezeen.com or +380935672881